Undated Academic Lifestyle Planner (Black)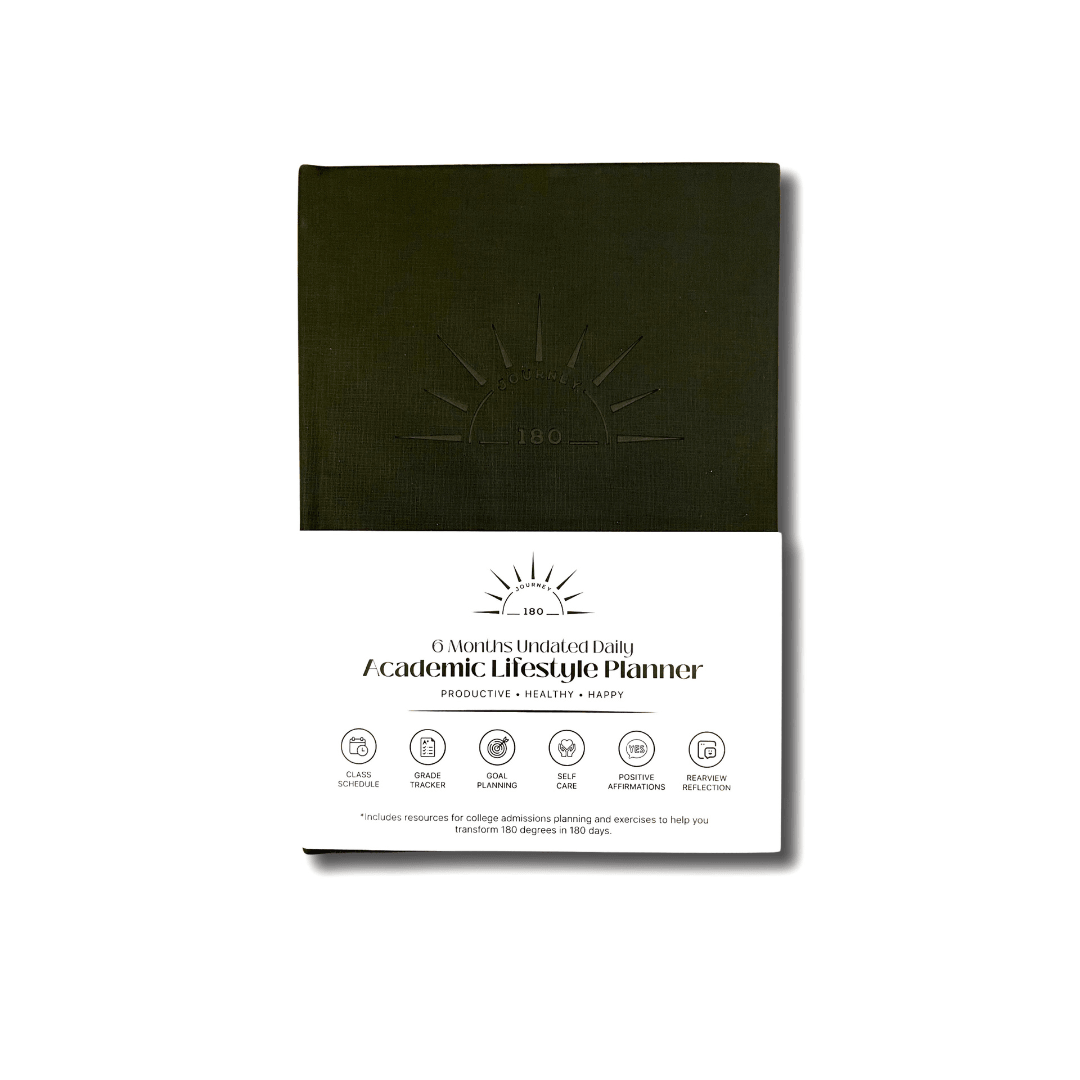 Description
Ready to have an amazing 180-day adventure?!
Introducing the Journey 180 Undated Academic Lifestyle Planner, your ultimate companion on the journey towards a purpose-filled life!
With this planner by your side, you'll feel more confident than ever before, thanks to our daily affirmations that inspire you to embrace self-love and self-growth. But that's not all. Our planner is designed to help you boost your productivity and develop strong executive functioning skills. Say goodbye to anxiety and hello to 30-minute time-blocks that will help you focus on your goals like never before! We know that every journey is unique, and that's why we've included fun exercises to motivate you to connect with others, create and breakdown goals, and become the best version of yourself. With our habit-tracking feature, you can easily monitor your progress and celebrate your wins along the way.
So why wait? Start your journey towards a more fulfilling life with the Journey 180 Undated Academic Lifestyle Planner today!
Check out a FREE mini-sample here.
What's inside?
Undated Monthly and Daily Layouts (so you can start and pause anytime)
Year at a Glance
Academic Overview: Class Schedule, Grade Tracker, Test Game Plan, Paper Game Plan
Lifestyle Exercises: Gratitude Jar, Dreams and Goal Breakdown, People I Want to Connect With, Memories I Want to Make, Places I Want to Visit, Bucket List, 
Monthly Wellness: Affirmations, Reflections, Habit Tracker, Free Space (for those who prefer doodling or dreaming up big 
Weekly Challenge and Reflection
Daily Gratitude, Time-Blocking, To-Do List, Self-Care, Mood Meter
Reflection Roadmap
Journey 180 Planner Details: 
Size: A5
Material: Hardcover Faux Linen to keep up with busy student life
3 ribbon bookmarks
Elastic Band closure
289 pages
It's a life coach, journal, and planner - all in one. With fun exercises to help students connect with others, challenge themselves, and pursue what moves them, Journey 180 Planner not only helps students plan for college and the future, but helps them enjoy the adventure each day brings.
* Planners also include free college admissions planning resources and templates to help high school students approach the college admissions process with reduced stress.
Swipe to see
your life with Journey 180